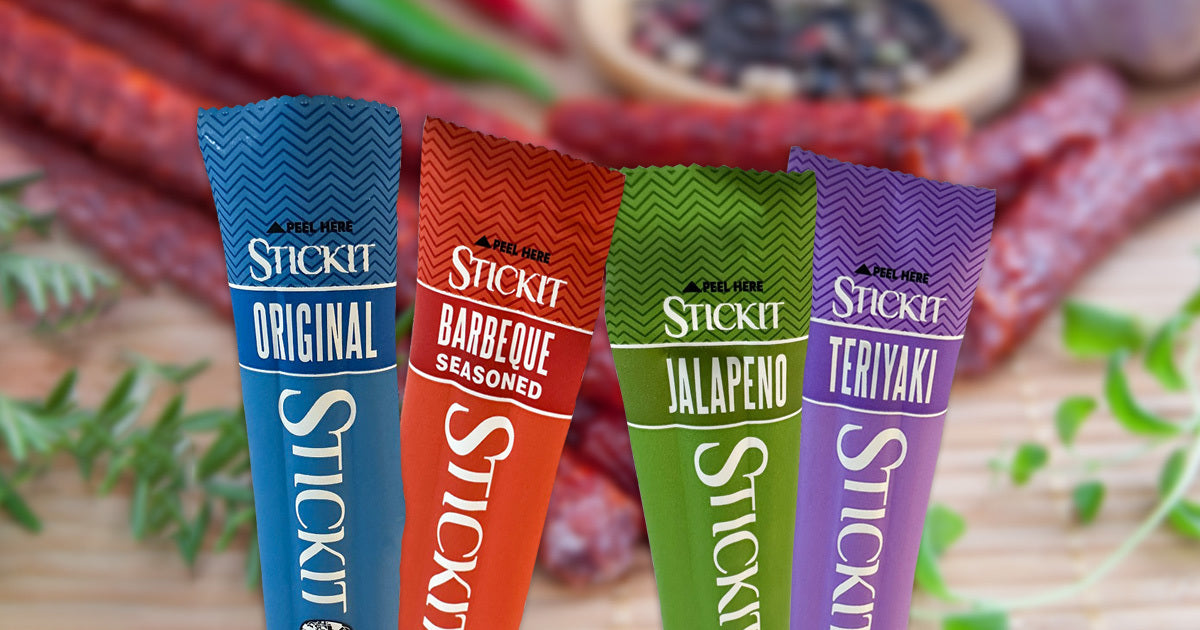 StickIt Snacks are the perfect solution for people who are constantly on the go and need a healthy snack that can replace a meal. These gluten-free meat sticks are an affordable and delicious option for anyone who wants to maintain a healthy lifestyle. No matter how busy you are, there is always time to eat healthily with our beef sticks.  
Snack Smarter with StickIt Superfood Beef Sticks
For those looking for a high-protein meat snack, StickIt offers a variety of options. Their high-protein beef sticks contain 13 grams of protein per stick, making them a great snack for people who need a quick and easy source of protein. These beef sticks are also a great substitute for military diet snacks, as they are low-calorie and provide a quick source of energy. 
One of the best things about StickIt Snacks is that they are a healthy alternative to traditional meat snacks. They contain no artificial preservatives and are made with natural, intentionally sourced ingredients. This makes them a great choice for people who want to avoid overprocessed foods and unhealthy snacks. 
The Best Meal Replacement Snacks on the Market
There are hundreds of products on the market that describe themselves as "meal replacements," but very few of them achieve this goal. Choosing between chalky shakes, flavorless protein bars, and granola bars that just can't satisfy your hunger was an impossible decision. Meal replacements simply didn't taste good before StickIt came around.  
Instead of relying on the old meal replacement methods that don't work, you can choose StickIt beef sticks. Our beef snacks are the best-tasting option for high-protein, low-calorie meal replacements on the go. If you're wondering how a single, 1.5 oz beef stick can replace a meal, look no further than our list of superfood ingredients: 
Lean Beef – A great source of

protein, iron, and zinc that supports your metabolism, immune function, and brain health.

 

Beets – A nutrient-rich source of antioxidants, magnesium, and dietary fiber to keep you fuller for longer. 

 
Banana – Potassium-packed produce to aid in the

absorption of minerals such as calcium and magnesium. 

 

Brown Rice – A source of f

iber containing selenium, magnesium, thiamine, and B vitamins which help convert food into energy.  

 

Chia Seeds – Rich in antioxidants, omega-3 fatty acids, and fiber, chia seeds enrich your health and help satisfy food cravings. 

 

Sea Salt – This natural source of iodine helps regular blood sugar and supports your nervous system. 

 
Our doctor-recommended beef snacks are packed with all the vitamins and nutrients you can expect from a balanced meal. Even when you just don't have time for a full meal, you can trust that you're taking care of your health by choosing StickIt Snacks.  
Low-Calorie Meat Snacks to Fuel Your Busy Lifestyle
StickIt Snacks are also a great option for people who are looking for healthy low-calorie snacks. Each 1.5 oz beef stick contains only 150 calories, which makes them a great option for people who are watching their calorie intake. These meat sticks are also an excellent option for people who are trying to lose weight, as they can be used as a protein meal replacement. 
Guilt-Free Snacking
In addition to being a healthy and nutritious meal replacement option, StickIt beef sticks also make a great snack! Our low sodium-free beef sticks are a fan favorite and come in four delicious flavors. For those who prefer the classics, our original beef stick is a great choice with a smokey flavor. If you're looking for something savory, you can choose our barbecue beef stick. Fans of sweet and savory flavor combinations will love our teriyaki beef stick. And finally, for our spice lovers, we designed the best jalapeno beef stick available. 
Stick It to Hunger with StickIt Beef Sticks
Overall, StickIt Snacks are one of the best meal replacement snacks on the market. They are healthy, delicious, and convenient, making them a great option for people who are always on the go. Whether you need a quick snack or a meal replacement, StickIt Snacks are a great option that you can feel good about eating.