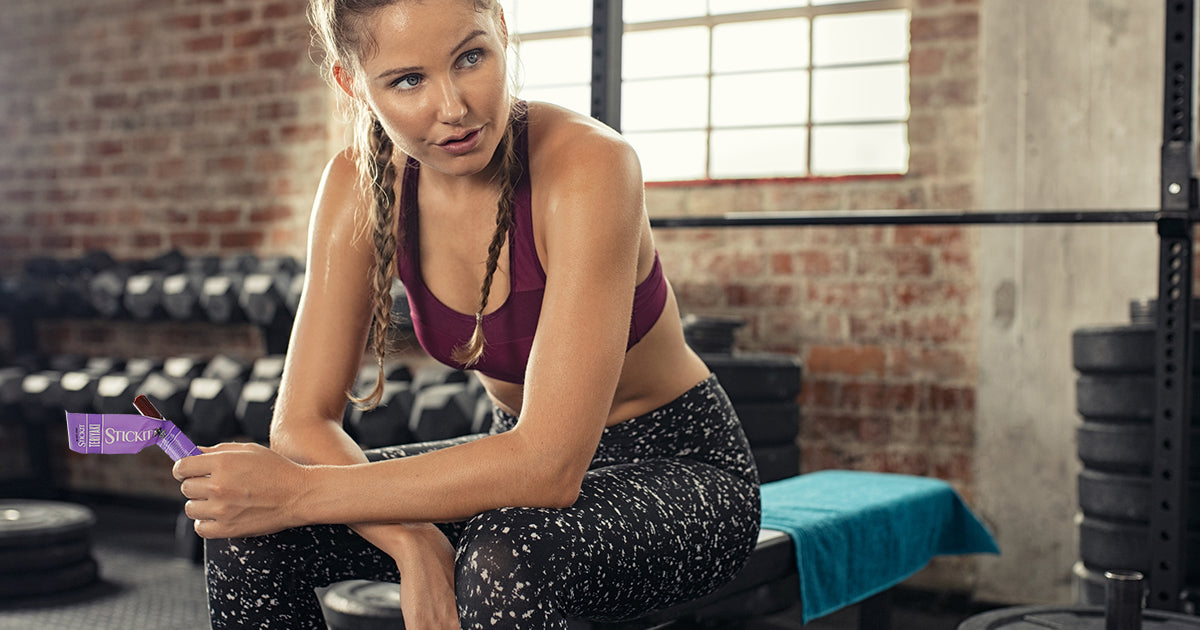 StickIt Snacks are a revolution in high-protein, low-calorie snacking. Designed for health-conscious people on the go, our beef snacks are perfect for anyone looking for a tasty treat or meal replacement. You may be wondering what makes StickIt so unique, or why they are the best meat snacks on the market today. Read on to learn the science behind StickIt beef sticks, the only beef stick with the nutrition of four food groups.  
What are StickIt
 Beef Snacks?
StickIt Snacks is a manufacturer and snack distributor of beef sticks known for their healthy low sugar snacks for kids and adults. Our beef sticks are low calorie, low carb, and designed for on-the-go snacking. Perfect for a meal replacement, or a quick pick-me-up, StickIt beef sticks are taking the industry by storm.  
Why are StickIt Beef Snacks so Good? 
StickIt beef snacks aren't just healthy meat snacks, they're delicious! We, of course, started off with our smoked beef original flavor beef stick before adding three more flavors to the collection. Today, the StickIt Variety Pack includes barbecue beef sticks, teriyaki beef sticks, and jalapeno beef sticks. No matter what flavor you prefer, mild to spicy, there's a StickIt that will satisfy your hunger and support your overall health.  
The Science Behind StickIt Beef Snacks – Our Story 
The StickIt Snack story starts with Doctor Tom Nicholson, who worked on creating this health snack between his surgical cases. Working with a small Scottish Highlander farm in York County, Pennsylvania, Dr. Nicholson began the process of developing the coveted StickIt superfood recipe we know today with his team. 
In addition to 1.5 oz of lean beef, each StickIt beef stick is packed with superfoods to support your health. These superfood ingredients are simple – beets, bananas, brown rice, chia seas, and sea salt. Read on to learn more about the health benefits of each ingredient. 
Lean Beef
Anyone who's familiar with high-protein low-carb diets, like the military diet, is familiar with the benefits of lean beef. Lean beef is a good source of protein, iron, and zinc while being low in fat. That means that this nutrient-dense food can support energy, metabolism, immune function, and brain health.  Research also suggests that including lean beef in one's diet can help lower the risk of coronary heart disease by improving cholesterol levels and reducing blood pressure.   
Beets
Beets are a rich source of antioxidants, which help to protect your body against free radicals that can cause cell damage. Beets are also high in fiber and can help decrease constipation symptoms. The fiber content also helps fill you up so you're less likely to overeat or snack on unhealthy foods between meals--a win-win situation! 
Beyond digestive health, beets can help you regulate your sleep! Bests contain magnesium--an essential mineral involved in energy production and muscle relaxation. Incorporating beets into your diet, on their own or in a StickIt, can help you improve your overall health!  
Bananas
You'd never guess this based on the flavor of our beef snacks, but StickIt beef sticks contain bananas. Bananas are rich in potassium which helps regulate blood pressure levels by keeping them low. They help with digestion by aiding in the absorption of other minerals such as calcium and magnesium into our bodies. Bananas can also reduce muscle cramps because they contain magnesium which helps relax muscles during exercise or after strenuous activity. 
Brown Rice
Brown rice is a whole grain and has a low glycemic index. It's also high in fiber and contains selenium, magnesium, thiamine, and niacin. Brown rice contains more B vitamins than white rice does, which helps convert food into energy for the body to use as fuel. This means that brown rice will leave you feeling full longer than white varieties do! 
Chia Seeds
Chia seeds are a good source of fiber, protein, and omega-3 fatty acids. They're also high in antioxidants that may help lower your risk for heart disease and cancer. The fiber in chia seeds can help you feel full longer, so you eat less during the day. 
Sea Salt
Sea salt is a natural source of iodine, which is essential for good health. Iodine helps regulate blood pressure and blood sugar levels, as well as support nervous system function. Sea salt also contains magnesium, which helps regulate muscle contraction and relaxation, just like beets!  
StickIt is a Healthy Superfood Snack That Tastes Great!
StickIt is a great snack that you can take with you on the go. It's packed with protein, superfoods, and other nutrients that are good for your body. The best part about a StickIt is how much great it tastes! StickIt snacks have a hearty flavor without the chewy texture and grease of other beef sticks.  
Don't believe us, try it for yourself! StickIt's great-tasting beef sticks are available in four delicious flavors for you to devour. Shop our beef stick and discover the science behind StickIt Snacks today!